IT educational laboratory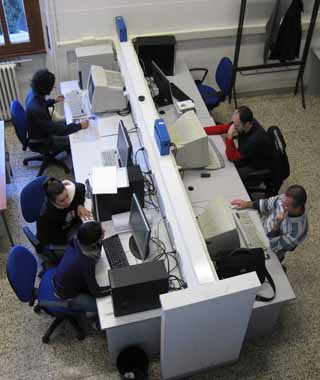 The work of the students in the Simulation and Design Laboratory is of extraordinary importance for their educational training. The laboratory maintains both Windows-based and Linux-based personal computers that are used extensively in course assignments and design projects. Commercial and Open Source software packages in all the major areas of civil engineering are available with user documentation available to the students.
Already since 1979 the Department of Civil and Environmental Engineering, formerly "Institute of Civil Engineering", had engaged in activities aimed to provide Information Technology facilities for students to learn and practice working (course assignments, design projects, homework, etc.). These services evolved and transformed over the years and today the Department manages a Simulation and Design Laboratory focused on educational activities.
The laboratory is employed by students to develop their course assignments, their design projects, their homework related to the Degree in Civil and Environmental Engineering. Hardware such as A0 plotter and scanner are in place. In addition, ample space for meeting, discussion and presentation are also provided for student to nurture their skill in managing project and enhance their leadership skill and teamwork.
The Laboratory is consequently aimed to develop educational experiences that put the students in close contact with the practice of professional engineering through access to Information Technology, computer programs, databases and information networks. The Laboratory provides consultation, by computer, to of a plethora of technical documents in the various fields of Civil and Environmental Engineering interest (technical rules, repertoires of products, specifications, price lists, etc.). Furthermore, the work in the Laboratory, allows the students, even as part of a cross-teaching experience among different classes, an extended project management of the whole process, through the use of appropriate computer simulation and representation tools that correlate the input and the output for each individual phase of the project.
Finally, the Laboratory encourages the introduction of a method of interaction between students and teachers that encourage independent learning and troubleshooting to provide the students of practical skills to figure-out the practice of professional engineering.
CONTACTS (LDI)
Tel. 055/2758806
SCIENTIFIC STAFF:
Prof. Ing. Luca Facchini
TECHNICAL STAFF:
Settimio Mafucci
last update: 27-Sep-2018